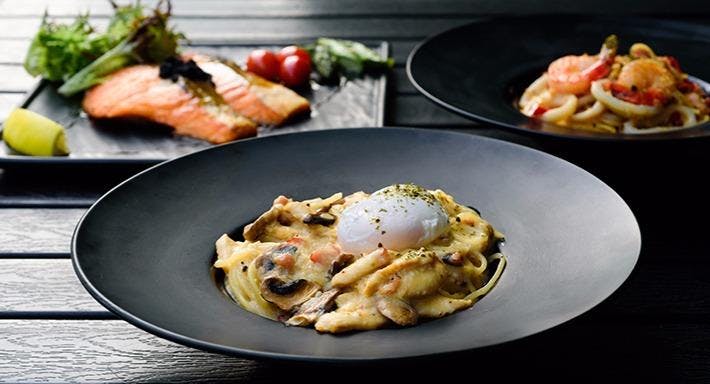 Atmosphere Bistro Bar - East Coast Park
About Atmosphere Bistro Bar - East Coast Park
When you go out for a meal in Singapore, the food is always paramount, but it would be remiss to forget the atmosphere and ambience when choosing your dining destination. Atmosphere Bistro & Bar on East Coast Parkway has that in spades, with a location right on the water, a lively welcome from the staff and a chic, modern decor. That isn't to say that the food isn't worth the visit as well: they offer a bistro menu filled with Western and international favourites, with plenty of European and American dishes to savour. Bar customers can snack away on the selection of fries – spam fries, cheesy fries, truffle fries and the house Atmosphere fries – and for those sitting down to dinner, we recommend the Wagyu beef burger, the ribeye steak or one of the pizzas – particularly the salami basil with, well, salami and basil. Book a table at Atmosphere Bistro & Bar in Singapore's Marine Parade to get the complete dining experience.
Go to Atmosphere Bistro Bar - East Coast Park Page
Address
Atmosphere Bistro Bar - East Coast Park
920 East Coast Parkway, #01-25/26/27
Singapore 449875
Opening Times
Open now
- Closes at 12:00 am
Thursday

6:00 pm - 12:00 am

Friday

6:00 pm - 12:00 am

Saturday

10:00 am - 1:00 am

Sunday

10:00 am - 1:00 am

Monday

6:00 pm - 12:00 am

Tuesday

6:00 pm - 12:00 am

Wednesday

6:00 pm - 12:00 am
45 Atmosphere Bistro Bar - East Coast Park Reviews
STEVEN J.7 days ago ·
3 reviews
Excellent place. My 2nd time visiting, this time with a bigger party. Great seating available (it was a weekday), and all food choices that were ordered were really good!
STEVEN J.a month ago ·
3 reviews
Had beef burgers with my dearest. Food was really good, take note though portions are extremely filling. Drinks are also good, alcoholic and non-alcoholic, both have very decent variety. Desserts are unique and sweet, go with the the Black Pearl if you want a small show with pyrotechnics!
Siew C.a month ago ·
2 reviews
Food was delicious and fresh and i liked the alfresco dining with the sea breeze. Re-vamped menu has lots of unique options, unlike a typical cafe.
Jaslyn N.2 months ago ·
1 review
Like the atomsphere. The service is good. Esp Daisy. She is super helpful. Food is nice. Will definitely go there again. But the servicing of drinks can be better. Waited quite long for serving of the drinks.
Sean H.7 months ago ·
1 review
I having a good experience in Bistro Bar with girlfriend on last Saturday night. I deliver a flower to restaurant to giving a suprise my girlfriend,staffs was so nice treating us and help me to keep the flower. Will re-visit again if got chance
Amelia S.24 days ago ·
3 reviews
Outside table was given to us, but there were ants crawling around, although it was understandable as it is near to the grass and beach. We requested for change of table and they promptly changed us in. Food was delicious, and they also have a small children's playground inside.
Irene K.2 months ago ·
4 reviews
2nd time there in less than 2 months. nice and relaxing place, brought our dog along and personnel was nice to serve our doggie a bowl of water without us requesting. 👍 Will check it out the ARC OUTLET too.
Lai N.7 months ago ·
3 reviews
The food was generally delicious and done well. Thin crust pizza is really good and I highly recommend the rack of lambs too. This new area of East Coast park is nice and quiet with good seaside ambient. However, the bistro noise level is a bit too high.
Henry Y.6 months ago ·
1 review
Atmosphere Bistro Bar serve good food My favourite being the double hamburger The rest of the meal is nice too. Enjoyed this restaurant every time I go there They also have a small play ground for kids to play.
Euphrasia L.7 months ago ·
1 review
Great food and great service. Had a table next to the indoor playground so hubs aand me could dine in peace while closely monitoring my 2 yr old. What else can one asks for? Highly recommended.