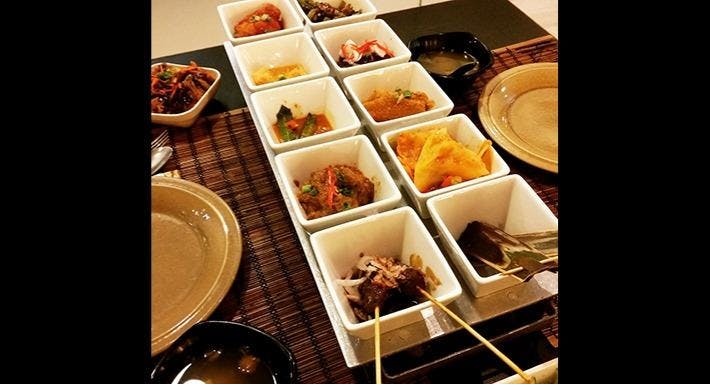 The Rice Table
Orchard
 · 
Asian, Indonesian
 · 

$

$

$

$
About The Rice Table
Singapore is full of great Indonesian restaurants, but The Rice Table is a name that stands out from the rest. At this restaurant on Orchard Road, you can experience the tradition of rijsttafel, a colonial feast invented by the Dutch consisting of many Indonesian side dishes served in small portions and accompanied by rice. To guarantee a table at this Orchard gem, booking ahead is definitely recommended!
Address
The Rice Table
360 Orchard Road #02-09 International Building
Singapore 238869
Opening Times
Sunday

12:00 pm - 3:00 pm

6:00 pm - 10:00 pm

Monday

12:00 pm - 3:00 pm

6:00 pm - 10:00 pm

Tuesday

12:00 pm - 3:00 pm

6:00 pm - 10:00 pm

Wednesday

12:00 pm - 3:00 pm

6:00 pm - 10:00 pm

Thursday

12:00 pm - 3:00 pm

6:00 pm - 10:00 pm

Friday

12:00 pm - 3:00 pm

6:00 pm - 10:00 pm

Saturday

12:00 pm - 3:00 pm

6:00 pm - 10:00 pm
Having a party?
Organising a party? Want to stay longer? Have a special request?
Further Information
Indonesian restaurants are a dime a dozen in Singapore, but few places offer a rijsttafel feast like the one you'll find at The Rice Table on Orchard Road. Invented by the Dutch during the colonial era, rijsttafel ("rice table") comprises a wonderful spread of Indonesian side dishes served at a single setting, showcasing the abundance of flavours, colours and textures of the cuisine.

The rijsttafel at The Rice Table is available as a buffet, giving you ample time to savour every single dish laid out in front of you. Try the ayam goreng (dory fillets coated in batter, deep-fried and topped with sweet and sour sauce), tahu kuning (deep-fried golden coin egg tofu served in a fragrant turmeric curry sauce) and sambal belacan (water spinach stir-fried in fiery dried shrimp paste) – among the best-loved items here that will have you reaching for seconds. The perfect place for a big, communal meal with family or friends with its traditional decor, warm ambience and great value all-you-can-eat options, The Rice Table draws in diners from all over Singapore to its central location in Orchard. The restaurant is easily accessible by foot from Orchard MRT station and we highly recommend that you reserve a table in advance
257 The Rice Table Reviews
Suryadi A.7 days ago ·
1 review
My date was running late and the staff kindly accommodated my request to move our reservation to a later time. Enjoyed the timely and attentive service. Overall food quality unfortunately has gone down a bit since my last visit a few years ago (most notably the over-fried dory fish) but thankfully my favourite Tahu Telor is still satisfying.
susan v.11 days ago ·
1 review
I love the ricetable, for both business lunch or catching up with friends: no choice, you get the best collection of Indonesian food, gor an amazing good deal!
Siew Cheng N.19 days ago ·
1 review
Their services very good. Serving of food very fast. Place quite small which making reservation is a fast to avoid disappointment. Will definitely go and have dinner again.
yeo z.19 days ago ·
9 reviews
Great service and wonderful food. Real value for money Been there myself and also recommended to many friends to go dine in the Ricetable. All were satisfied. Restaurant is small so reservations strongly recommended
Henk v.a month ago ·
1 review
The Rice table is a restaurant we visit already for more than 15 years. We keep coming back on a regular basis, when we lived in Singapore as well as now, after having returned to our home country, when visiting Singapore. We always likes the diversity, variety and quality of all the dishes of the rice table. There is in addition a very nice balance between price and quality. We recommend this restaurant for lunch as well as dinner. For us it is a perfect location when inviting friends or colleagues. Suggestion : When the guests have arrived it would be nice to welcome the guests first at the table, ask for drinks and then start serving the rice table dishes. But having said so, we will be back next time we are visiting Singapore !
Samuel W.6 months ago ·
1 review
I have been a fan of Rice Table for years and the quality is generally consistent. The choice and selections are usually quite complete and there is lots to eat. We almost always replenish every dish, many more than 2 or 3 times. Always excellent are the satay, tahu telor and beef rendang. However this last time the beef was not as tender as usual and the eggplant could have been cooked a little longer. Appreciate that the shrimps they use are not of the frozen variety like most buffets, well at least not on this visit. WE always end up rolling out of the restaurant after the meal and this time was no different. Always a satisfying experience.
Susan L.2 months ago ·
1 review
My one and only complain is that they should cut down on the fat in beef rendang. That being said, I enjoyed my time spent at this restaurant. I found the concept of this restaurant to be interesting and its food extremely mouth watering. I found the service there good as well. Waiters and waitresses were observant and took the initiative to offer me more rice when my plates were clean. Overall I would recommed this restaurant to my family and friends!
Lawrence T.4 months ago ·
1 review
Misconceptions about the cuisine being the equivalent of Nasi Padang will make the cost seem insensible. In reality the cuisine is authentic Javanese, with nuanced differences in saltiness, sweetness etc Flavours are complex and such a treat. Never a dull moment with the festive nature of dinner service with a plethora of dishes, that initially seem daunting. My personal favourites are the satay and tauhu goreng.
NH S.4 months ago ·
1 review
1) I find the food to be a bit too salty for me. 2) The portion of lady fingers was way too small. There were 3 of us eating and only 3 small pieces (parts of a whole!) were given in each serving. We were not allowed to place more than one order of the same item each time, and thus had to wait for the waitress to bring the next plate of 3 small pieces after we finish each plate. It sounded quite ridiculous and embarrassing for me as the host of the meal!
MARIA V.8 months ago ·
3 reviews
Most of the food was tasty (except for the okra which was very old and the under-cooked brinjal) and remained warm on the table. We were pleasantly surprised when the wait-staff obliged us by replenishing our dishes (at our request). However, it would have been better if the dishes could've been identified (or named) when served. The restaurant is quite small and cozy, but we were seated near a fairly large group of loud (and noisy) diners, so it was quite difficult to hear ourselves, across the table.
2
3
4
5
6
7
8
9
10
11
12
13
14
15
16
17
18
19
20