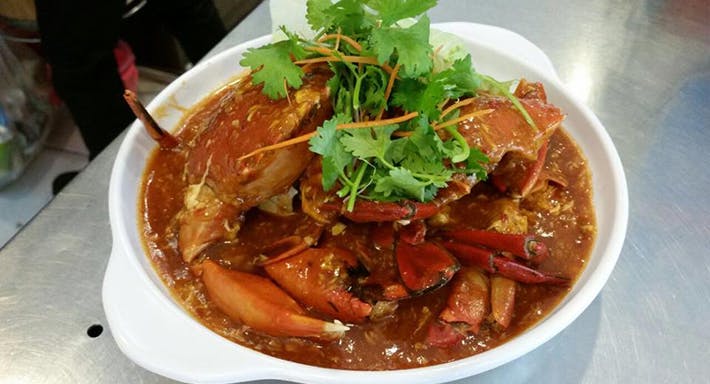 About Club July - Toa Payoh
In Toa Payoh in Singapore's central region, down on Toa Payoh North, you can find a place that truly has something for everyone. Club July is an all-round chillout zone, an oasis from the busy-busy lifestyle of Singapore, a place to unwind with the whole family. Play board games, pool, watch sports or simply enjoy the superb Chinese menu – just make sure you book a table in advance to secure your seat for the evening.
Address
Club July - Toa Payoh
1008A Toa Payoh North
Singapore 318998
Opening Times
Open now
- Closes at 12:00 am
Monday

11:30 am - 2:30 pm

5:30 pm - 12:00 am

Tuesday

11:30 am - 2:30 pm

5:30 pm - 12:00 am

Wednesday

11:30 am - 2:30 pm

5:30 pm - 12:00 am

Thursday

11:30 am - 2:30 pm

5:30 pm - 12:00 am

Friday

11:30 am - 2:30 pm

5:30 pm - 12:00 am

Saturday

12:30 pm - 12:00 am

Sunday

12:30 pm - 12:00 am
Further Information
Toa Payoh North – in Toa Payoh, don't ya know – is a little distance from the centre of Singapore. Club July is a million miles away from the hustle and bustle of the big city, and thus is a superb place to kick back and enjoy a stress-free, relaxing evening. Whether you take in the sports on TV, have a few evening beers, play a spot of pool or take a bite from their menu of Chinese and Singaporean classics, you can be sure of an evening off from the grind.

Toa Payoh is not an area especially known for outstanding Chinese food, but at Club July on Toa Payoh North, you can experience some of the best that Singapore has to offer. Chilli crab, shark's fin soup and sweet and sour pork all make an appearance on the menu, so you can take your pick and chow down. Make sure you book a table though – they can get busy!
19 Club July - Toa Payoh Reviews
Jevin C.2 months ago ·
7 reviews
a cool place to hang out in the evenings. free ktv with darts machines and pool table, activities suitable for big groups. will come back again.
Jan T.3 months ago ·
5 reviews
Food is delicious and very value for money. No GST. Ambience great - very relaxing and more importantly not too noisy . Good place for drinks with friends too :) Highly recommended for gathering with friends and family !
Aik J.a year ago ·
1 review
Friendly & helpful staff! Food was delicious & unique selections! Nice & spacious restaurant~ the kids enjoyed the pool table & darts game after dinner
Jacqueline T.2 years ago ·
2 reviews
We ordered silver fish, hotplate tofu, salted egg prawns and pineapple fried rice, Overall experience was good and food is tasty. Will return with more people to try other dishes.
Michelle P.9 months ago ·
2 reviews
The service is really excellent, the staff there were very friendly and attentive. Me and my friends felt really warm and welcome and the food is really good too worth the value that you paid for. So of course if you aren't really looking for a atas place but instead just a nice place to chill and hangout with some friends this is a place that won't break your bank.
Mark H.a month ago ·
28 reviews
Quiet place for lunch. Had pork chops, which came piping hot with mash potatoes, coleslaw and baked beans. But nothing much to rave about for the taste, sadly. Still this is an ok place to eat without hurting the pocket. May be back to try the Chinese dishes, of which there's a big selection.
TIMMY N.a year ago ·
2 reviews
Pleasant place for a standard tasting meal, darts and karaoke with friends. Staff were generally forthcoming. The food is a mixture of western food and stir fried dishes. Expect to wait for 30 mins for your meal. The place was operating at 1/3 capacity yet food prep takes awhile.
Anthony C.2 years ago ·
1 review
Great dinner for the whole family. Kids get to choose their favorite Western food. Old folks can choose ZhiChar... That's really one stone kills 2 bird!
Jaoson W.4 months ago ·
1 review
good place to visit if you want to have some fun and dont intend to go town or sing some song after 9pm. Worth to give this place a try.
CHEW A.2 years ago ·
1 review
Good environment. Great for birthday celebration. They sell Chinese cuisine and western food. Food is nice also. There is karaoke, billiards and darts game also.